Slide 1
Energising Nation
Through Clean Fuel
Slide 3
Contributing To
Nation's Growth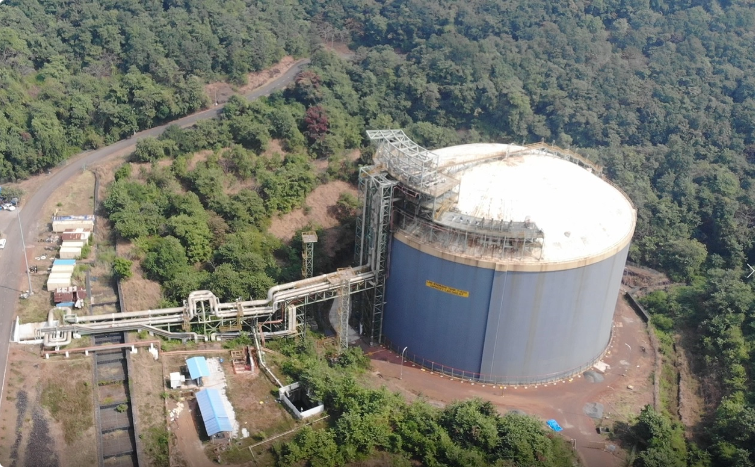 Dabhol Power Company (DPC) of Enron Development Corporation of USA, was formed for setting up of Power plant in the state of Maharashtra, namely erstwhile Dabhol Power Station. Construction was started in 1992 and First phase of 740MW (Naphtha based) was commissioned in May 1999. The construction of the Phase –II of the Power Plant & LNG terminal had started and was due for completion in end 2001. However, due to various controversies, Dabhol Power Station was interrupted on several occasions. Subsequently, operations were abandoned due to the Enron bankruptcy and disputes between Enron's creditors and Government of Maharashtra (GoM) in May 2001.
Read More

Read Less

In these circumstances, under the direction of Government of India, a Special Purpose Vehicle (SPV) was formed in the year 2005 named as Ratnagiri Gas and Power Private Limited (RGPPL) with the participation of GAIL (India) Ltd., NTPC Ltd., MSEB Holding Company Limited & Indian Financial Institutions to take over the assets of the erstwhile Dabhol Power Company (DPC) and revive the abandoned project. The project consists of Power Block of 1967 MW and LNG Terminal of 5 MMTPA Capacity. RGPPL Integrated Plant (Power Block & R-LNG Terminal) was not creating value. Non-availability of domestic gas has resulted in disruption of operations of Power Block since FY2013 and complete shutdown from December 2013. RLNG Terminal was also being sub-optimally utilized i.e. only for 6-7 months and there was an urgent need for implementing the breakwater facility. So, it was felt essential to demerge the Power plant and R-LNG terminal for Value Creation, dedicated focus, Resolution of Funding Constraints etc. Accordingly, demerger scheme was prepared for demerger of RGPPL into two separate companies i.e. one for Power Block and another for LNG Terminal. In order to facilitate the transfer of LNG undertaking pursuant to Demerger Scheme of Ratnagiri Gas and Power Private Limited (RGPPL), Board of Directors of RGPPL approved the incorporation of Konkan LNG Private Limited (KLPL) as its wholly owned subsidiary in December, 2015. Demerger Scheme of RGPPL was approved by NCLAT vide order dated 28th February, 2018 with Appointed Date as 1st January, 2016 thereby transferring the LNG undertaking from RGPPL to KLPL. Demerger scheme was made effective from 26.03.2018. Accordingly, LNG business and all its associated assets and liabilities have been transferred to KLPL by RGPPL, with mirror shareholding as of RGPPL. KLPL owns and operate LNG re-gasification terminal having 5 MMTPA capacity at Dabhol, Maharashtra.Pursuant to shareholders approval for conversion of the Company from Private Limited to Public Limited, Registrar of Companies, NCT of Delhi & Haryana issued fresh certificate of incorporation on February 18, 2020 whereby the name of the Company has been changed to "Konkan LNG Limited".

Vision
Be a Significant player in LNG value chain with international presence focused towards satisfying clean energy needs of the nation.

Mission
Making clean energy available to the nation by operating LNG facilities in efficient, sustainable & environment friendly manner and striving towards excellence & new opportunities for creating maximum value for stakeholders.
Shri R K Singhal
GAIL Nominee Director
Shri A Kaviraj
GAIL Nominee Director
Shri E.S Ranganathan
Chairman
Smt. Nalini Malhotra
GAIL Lender Nominee Director
Shri Sashi Menon
GAIL Nominee Director